JIEJIE is a portrait of young sisters being raised by a single immigrant mother in Los Angeles in 1997. It is Fiona's autobiographical work that takes an intimate look at the Asian immigrant story—confronting issues of adaptation, acceptance and mother/daughter/sister relationships–from a young girl's point of view. At the heart of the film is a touching commentary on the evolving relationship between sisters.

Click to read the Interview.
Q: How would you define your artistic voice as a director?
A: I think I'm early in my career, but I can tell you what interests me a lot at the moment. I love realistic, naturalistic films. I'm discovering a lot, I'm learning about different kinds of realism. So definitely that's what I'm interested in. I love Hou Hsiao-Hsien, definitely. Kore-eda, the Japanese director. Also Dardenne brothers. I got the rehearsal and filming techniques from Dardenne brothers, that's how they work.
I think I'll continue making female driven films, that's what I'm most passionate about. Eventually I'd like to film my first feature film in Taiwan, centering around the story of my immigration back – a family drama set in 2003 during the SARS epidemic. That's what I want to do. I guess you can say I love family drama. Family fascinates me because, it's something everyone has to deal with, and is one of the most fundamental relationships we have as human beings.
A Conversation with HBO's Asian American Visionaries: Director Feng-I Fiona Roan, by Clarence Deng.
"Jiejie," which translates from Mandarin to "sister" follows young Fen, who's embarrassed by her un-American look and takes matters into her own hands — fueling a fight between her and her younger sister at church.

Here, Roan discusses how the 12-minute short came to fruition and other APA narratives she's exploring.
Q&A With HBO APA Visionaries Winners: 'What is Home?'
by KORE ASIAN MEDIA
How important do you think JIEJIE explores themes of fitting into American society are for younger Asian Americans?
F: I think it's very important. We see a lot of immigrant stories, but they're rarely told from children's perspectives. Especially from a young girl's perspective. For a young girl, it means the world to look like everyone else. I think that's a very emotional thing. In my film, I wanted to explore the difference between first- and second-generation Asian Americans, which is something so subtle that we overlook. We actually are very different. I think that's what's so interesting about this Asian Pacific community.
HBO today announced the three finalists of HBO Asian Pacific American Visionaries, a short film competition that provides emerging directors of Asian and/or Pacific Islander descent the opportunity to showcase their work. Filmmakers Maritte Go ("Remittance"), Huay-Bing Law ("June"), and Feng-I Fiona Roan ("Jiejie") will have their shorts premiere at the 2018 Los Angeles Asian Pacific Film Festival in May; where the first, second and third place winners will be announced. HBO will debut the trio of films during Asian Pacific American Heritage Month in May on its on-demand and digital platforms (including HBO NOW®, HBO GO®, HBO On Demand® and affiliate portals).
阮鳳儀於2017年畢業於美國電影學院(American Film Institute),希望在一個畢業的項目做一些比較特別的提材。她認為,華人之間的故事從來沒有人提起過,為何不能做一個呢? 而製成品《姐姐》,正是她自己本人的真實故事,她就是短片中的主角,那位《姐姐》。

1990年在台灣出生,由於香港1997年回歸時出現移民風,她的母親把她和妹妹兩人帶到美國俄勒岡州生活,而父親卻留在台灣,把每月的薪金1000元美金寄到美國。雖然有遠方父親的經濟支援,但母女三人的美國生活仍然困難重重。
多年過去,阮鳳儀形容,自己移民美國的經歷,曾經是自己最不舒服部分、最不想談及的部分。通過這個短片,兩姐妹再次驟首,擔任化妝師,小時候的不快一抹而去,共同回憶美國的移民的點滴。阮鳳儀希望拍攝更多亞裔的題材作品,增加大眾關注亞裔民眾的相關議題。 (全文閱讀)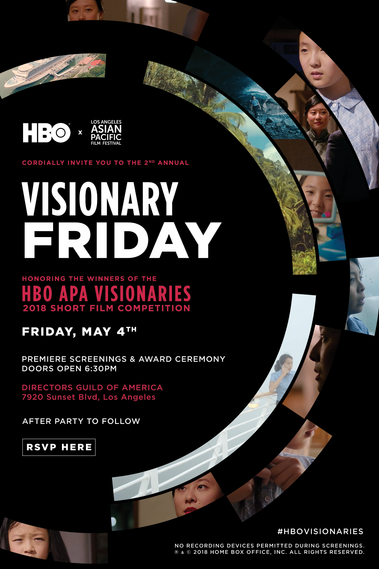 (記者程果兒/洛杉磯報導)HBO亞太裔美國人夢想家短片展(Asian Pacific American Visionaries)總決賽將於今年5月在洛杉磯舉辦,近日公佈的入圍總決賽名單裏包括台裔女生阮鳳儀、菲律賓裔的南加大畢業生Maritte Go、來自德州大學奧斯汀分校的Huay-Bing Law。
HBO亞太裔美國人夢想家短片展是為亞洲和/或太平洋島族裔導演新秀,提供展露才華機會的短片競賽單元,三名入圍決賽者將在五月份舉辦的洛杉磯亞太影展中一較高下,角逐本次競賽冠亞季軍,HBO頻道也訂於五月份首播三部進入總決賽的短片。
今年競賽的主題是以創意和創新的方式探索「家」的概念,三部入圍短片根據此主題探討移民、種族主義和族群融合議題。
其中台裔女生阮鳳儀(Feng-I Fiona Roan)在台北出生,在奧勒岡州長大,目前住在洛杉磯,並在當地取得美國電影學院頒發的導演美術碩士學位,鳳儀在參與電影工作之前曾在國立台灣大學攻讀古典中國文學,她此次攜作品「Jiejie」參賽,該片講述由移民母親獨立撫養兩個年幼姐妹的故事,背景是1997年的洛杉磯。